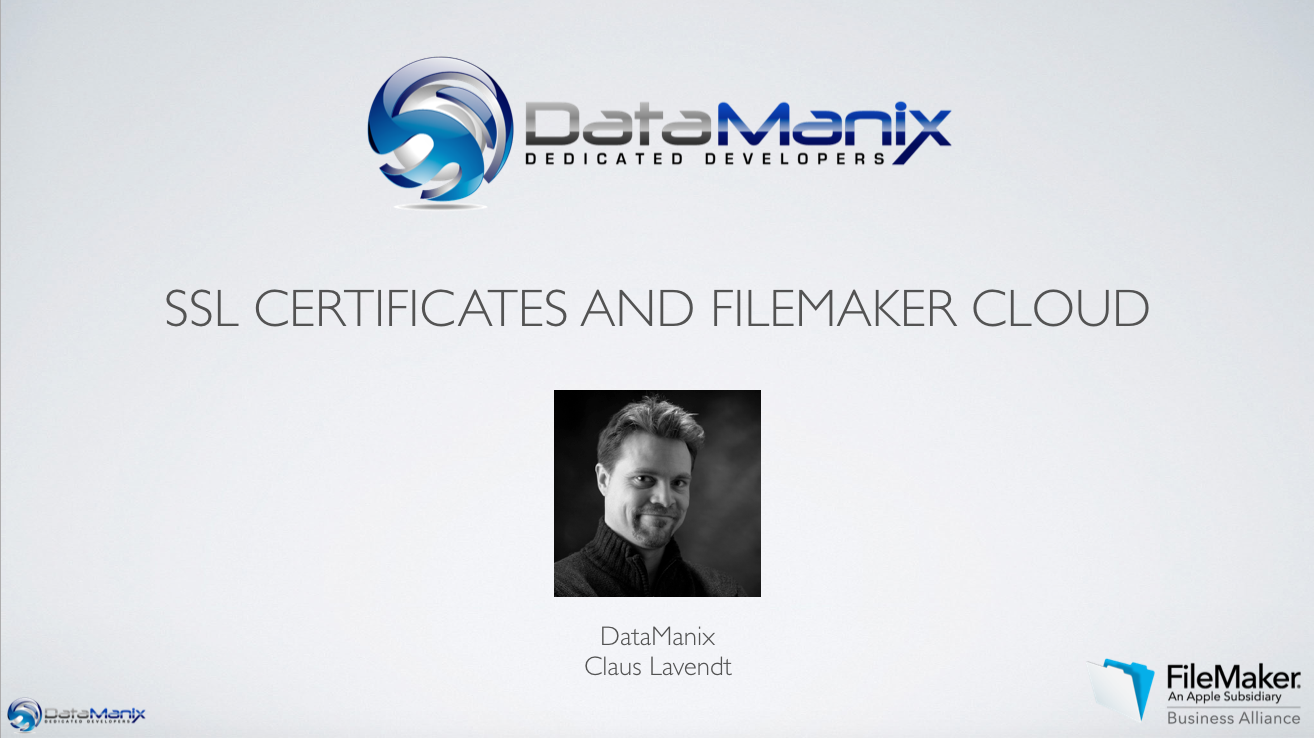 The FileMaker Cloud is here, and we are excited!
There are many great things to say about the FileMaker Cloud and we think this is a very important and great addition to our platform.
One thing we must realize is that what we have now is a 1.0 release, which means that there can be some "rough edges" that needs to be polished in future releases. One such edge is the process of renewing the SSL certificate, that your FileMaker Cloud instance is installed with. (you get 90 days free)
Frankly, the process is very complex, even for seasoned developers and server admins and involve several terminal commands.
Wouldn't it be great, if there was an app for that ?
That's what we thought, so we have created a FileMaker Custom App, that helps you with the process of renewing your FileMaker Cloud SSL Certificate. Not only is this app completely free, it is also completely open source. And you can download it below.
Now, how do I use this tool ?
I'm glad you asked. Richard Carlton and Claus Lavendt did a video on this topic, where we are walking through the tool and explains the process. Beside a walkthrough of the tool, we also discuss the concepts behind and we think this video is worth a watch.
Richard Carlton Consulting is producing awesome videos for the community as well as several video courses for everyone that wants to learn FileMaker. Check out their offerings at www.learningfilemaker.com
Claus Lavendt is Senior Consultant and owner of DataManix. We are leading FileMaker experts and beside creating great custom solutions for our customers, we have a deep passion for our platform. We also consult for our colleagues in the community and is among the top experts on FileMaker Server, FileMaker Go and several other areas of our platform. If you need help with your server, you can contact us. We also have a Managed FileMaker Server service, where we can take care of your server, so you can focus on creating great apps for your users. www.datamanix.com
PLEASE NOTE: We have found a bug in the tool.
If you already downloaded this tool, please download this new version 1.3.0 and follow these instructions:
1) Open the tool, use the slide panel dots to navigate to the second panel (step 1). Fill out your Instance URL
2) Make sure you still have the working folder in your Documents folder: /Documents/FMC_SSL/
3) Navigate to the second last slide panel, using the slide panel dots
4) Follow the instructions in step 5 and press the button "OK – I have done that"
5) Now the tool concatenate the 2 files from Comodo and you can now re-import the certificate file into your FileMaker Cloud instance.
Please provide your name and email address for your free* download.
Free means "Yes please, I´d like to receive up to four mails a year
with relevant information about TheBrainBasket universe."
Distributed as-is; no warranty is given.Use of the material is at your own responsibility. If you use techniques from our solutions, you are welcome to credit DataManix (optional of course).
Free means "Yes please, I´d like to receive up to four mails a year with relevant information about TheBrainBasket universe."
Your information stays with us!
I agree with the
Terms & Conditions